Your Plus Size Clothing Guide to Everyday Fashion!
Do you want to be able to buy plus size clothing that will accentuate your best features and minimize your problem areas? Do you want to transform your look? Do you want to feel confident in what your wear when you walk out the door? Would you like to be able to shop for plus size clothing  that is trendy and fashionable? Who doesn't?! 
It's really pretty easy as long as you know  what designs, styles, fabrics, colors, etc. will flatter your shape and size.
Today's fashion is booming for plus size women. Take the leap and wear what you love and show the world that you look stunning in fashion too. Oh, and don't forget to accessorize!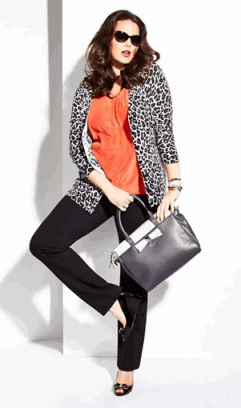 Online only! Take $50 off your order of $100 (regular priced items only) online only at Lane Bryant! Coupon Code: GETFIFTYLB
Full Figure Fashion Dos

A classy look is more than just buying a revealing top, dress or any other clothing item. It's about making the right clothing choices for your figure, knowing how to accentuate your best features and mask your not so best features.
Next time you shop for plus size clothing keep the tips below in mind.

All the bullets below are explained in more detail throughout this website. The links in blue will take you directly to the page that is dedicated to that specific topic.

Know your body type. This will drive all your fashion choices. 
Buy the correct size. Too tight and you can look trashy. Too baggy and you can look sloppy.  Clothing rarely fits right off the rack.

Find a good tailor if you need too. It's worth the investment.

Free Shipping on all Splash Boutique orders over $75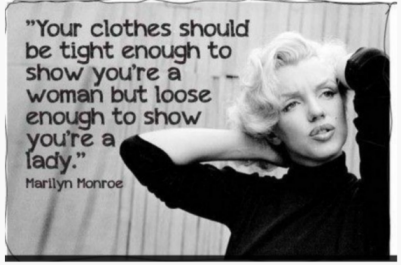 Shop Glam Dresses at Ashley Stewart (Plus Sizes 12-26)!
Minimize

your

problem areas, but don't do it by wearing baggy styles.
Always think in terms of elongating

your

silhouette.
Your goal is to look balanced. Your bottom half and top half should be in proportion. Even if you don't have an hourglass shape, your goal is to get one.
Wear chunky high heels. They will make you look sexier and elongate your silhouette.
Don't hide behind

dull earth tones and black clothing. Colors and patterns are a plus size woman's friend if worn properly.
Know your skin tone so you know what colors are flattering on you.
Wear romantic lingerie and underwear. Even if no one will see it, you will know and it will make you feel saucy.

Wear age appropriate clothing.
Define your waistline or create a waistline if you don't have one.
This list may seem a bit overwhelming, but it really isn't.  In no time you will know what looks the best on your figure and your confidence will soar.

Click here full figured beauty and see what else makes a woman truly beautiful.
---
---
We Would Love To Hear From You!
Do you have a great story to share? Please tell us your own fashion ideas or experiences or, tell us what you think of our website.