Plus Size Shorts...Tall on Tips

When it comes to buying plus size shorts there's a lot to consider: length, color, fabric, pleats, wash, and pockets. Many retailers carry a variety of lengths and styles. If you have great legs, then you have a better selection of styles to choose form.

Wearing a thinner white fabric in shorts is a fashion emergency waiting to happen. You know the rule about white bathing suits, right? Well, if you don't want to expose yourself then don't wear thinner fabrics that are also light in color.  Also, shorts that are made of thin fabric may ride up or cling highlighting cellulite.

When it comes to pleats, walk away. Pleats only add bulk to your tummy. Go with darker wash colors which won't advertise your bottom or thighs.  Lastly, avoid side pockets. They add bulk to your hip area making you appear larger than you are. 
Thighs and Cellulite a Problem?

Sorry to say that Daisy Duke shorts are out of the question. However, there are shorts you can wear that will make you look great. If thighs are your issue, then follow some of these tips when shopping for flattering shorts.


Buy a size up. A tighter fit will highlight bigger thighs so go up a size to minimize your upper legs. Plus you will be more comfortable during the hotter months.
Opt for darker rinses and heavier fabrics. Kind of contrary to staying cool in the summer right? However, a sturdier fabric (heavier cotton blends or denim) reduces the risk of the shorts riding up creating that inverted V. YOU KNOW what I am talking about. If you prefer wearing shorts in a lighter fabric then be sure to wear shapewear underneath.
Capris are a great alternative to shorts. They are very much in style. They give your thighs full coverage even when sitting.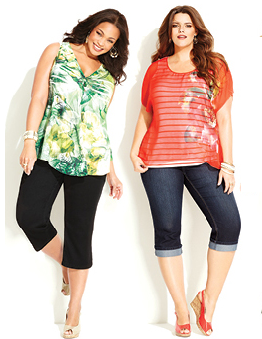 plus size clothing>Plus Size Shorts