Plus Size Two Piece Bathing Suits

You may be ready to start looking at two piece bathing suits over one piece bathing suits this season or for your vacation. And if showing your midriff is not your thing, then there are other styles in bathing suits that are great options for you like the tankini and skirtini. These styles are a great choice especially if you wear a different size on your bottom than on your top. The tankini top offers a little less support than a one-piece, but the benefit is that there is more freedom of movement. You also have more choices on what bottoms you would like to wear (skirt, panty, or shorts).

Look for tank top styles with full coverage and sturdy, wide straps. If you are buying separates, you can mix and match tops and bottoms for more variety. Tankinis are a great option for pear and apple body types. Look for an A-line cut or empire waist styles with skirts to minimize a wide middle and larger bottom.
---
COVER THE REAR: If your bottom is your foremost (or should I say back most) concern, remember that horizontal stripes, prints or patterns will make you appear larger than you are from behind. Also, the more fabric your bathing suit bottom has, the bigger your bottom will look.  Go for a darker, solid color on the bottom and wear prints or colors on top which will draw the eye upward.

If you are buying a tankini look for one where the top hits below your rear end. You can also purchase a cover up skirt or wrap for coverage.

Another option is to look for swimsuits that come with boy shorts or shortinis. This particular style will cover your hips and bottom.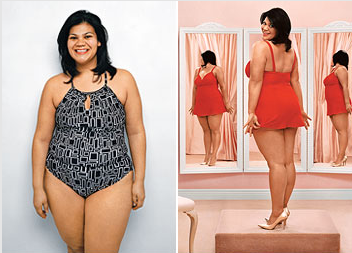 ---
plus size clothing>two piece bathing suits