Tie a Scarf and Make a Great
Fashion Friend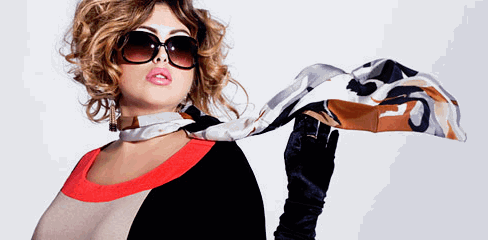 Scarves...what's not to love about them?! Oh yes, not many women know how to tie a scarf the right way for the right look. When they are worn the right way, they are a great addition to any outfit. Once you learn how to tie a scarf (an there are so many options), you will find that this fashion accessory will become a great fashion friend to you!
Wearing a scarf is an easy way to add color to a monochromatic outfit. Wearing scarves is not just limited to being worn around your neck either. You can wear them as a belt or sash to accentuate your waist. You can also tie a scarf around the strap or handle of your handbag or purse. You can even wear a scarf in your hair or on your head.  So many wonderful options, right?  Absolutely!

I have to admit that I have always envied women who wore scarves. I thought they looked great, but I never thought I would look good in them. Not only that, they come in so many shapes, fabrics and knits, I wasn't quite sure how to tie them and feel fashionable.  Eventually, I went for it and found that wearing them is very simple and really makes the outfit. Now I like to wear them all the time. I even love to shop for them. Keep a variety of colors, prints and patterns around so when the mood strikes, you can make your outfit a show stopper anytime.

Still not convinced? Play the videos below and learn some great ways you can wear scarves too.

Countless Ways to Wear a Scarf

.......

??????????

.........

Squares can be Cool too!

;;;;;;;;;;

Head's Up

>>>>>>>>
Pashmina's - a Chic
Approach to Warmth and Style

Wearing a Pashmina scarf is another way to bring beauty to your outfit and warmth too.  Pashmina's are currently made in India, Turkey and Nepal and come in vibrant colors and patterns. Today, they come in various fabrics but true Pashmina's are either 100% cashmere wool or a combination of cashmere wool and silk. 


They are very versatile too. Not only can they be worn in the styles shown in the above videos, but they can be worn as a shawl/wrap to keep you warm while looking stylish and classy. So bring one with you when you go to a wedding, conference, business meeting, party, etc. to keep you warm while looking fabulous at the same time.

plus size clothing>tie a scarf